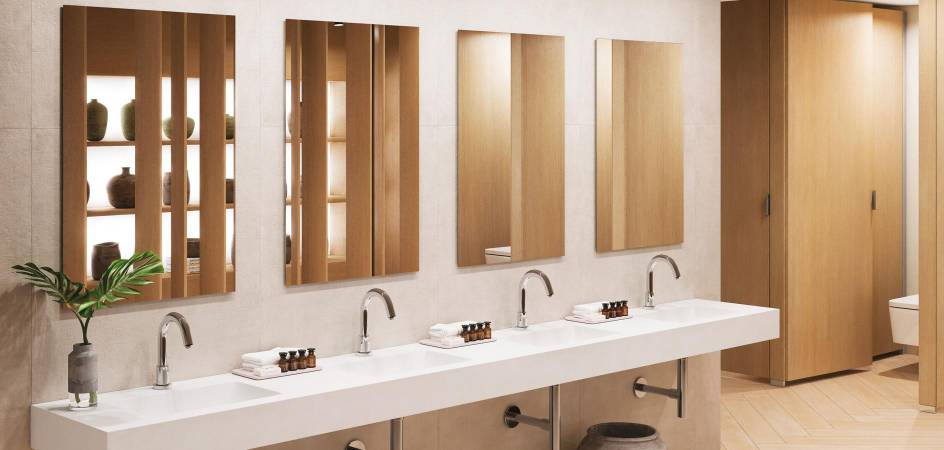 Inspiration
CUSTOM-MADE BASINS IN SOLID SURFACE: HOW MANY SINKS DO YOU NEED?
Go for the mineral texture of Surfex® with the wall-hung basins Modo and Beyond: configurable with up to 4 bowls, bathroom countertop and optional shelf or towel rail.
Just like painting a picture or devising a building… A bathroom renovation consists of elaborating details and the. Roca's custom-made basins in Solid Surface have it all to shape your creative universe. Whether you live on your own, with a partner or with your family, the plasticity of Surfex® will allow you to have tailored basins: up to 4 sinks with an incredibly pleasant touch in any shape you desire, with the basin faucets you prefer and with a countertop as appealing in texture as the shelf you can choose to round out the functionality of the ensemble.
One individual, one life project
Have you just started living alone? Have you decided to move in with your partner? Or perhaps your family is about to grow? As every home is different, so are the needs in every bathroom. And thanks to their customizable nature, the made-to-measure Solid Surface basins might be the solution you were looking for.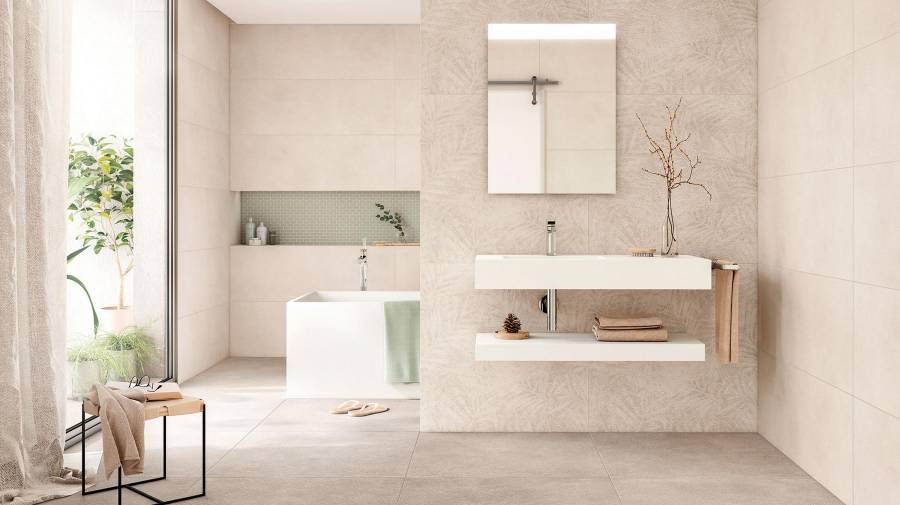 If you decide to install a wall-hung basin, those manufactured in Surfex® allow you to choose from one single bowl —with countertop on either side or asymmetrical—, to a double basin, a triple one and even a basin with up to four sinks. Choose a width from 450 to 500 mm, and a length from 580 to 2800 mm, and you will see that shaping your bathroom basin is easier than you thought. The practical countertop, also manufactured in Roca's Solid Surface, is the ideal complement for all possible configurations, so that you can organize your toiletries while you enjoy its silky texture in an unmistakable matt white.
Design basins for every personality
Once you have decided how many bowls you will have and what countertop surface you will combine them with, you need to choose the style you wish to bring to your bathroom space. To help you with this, Roca puts at your disposal two modern collections with exclusive designs that make the most of the extraordinary malleability of Surfex®.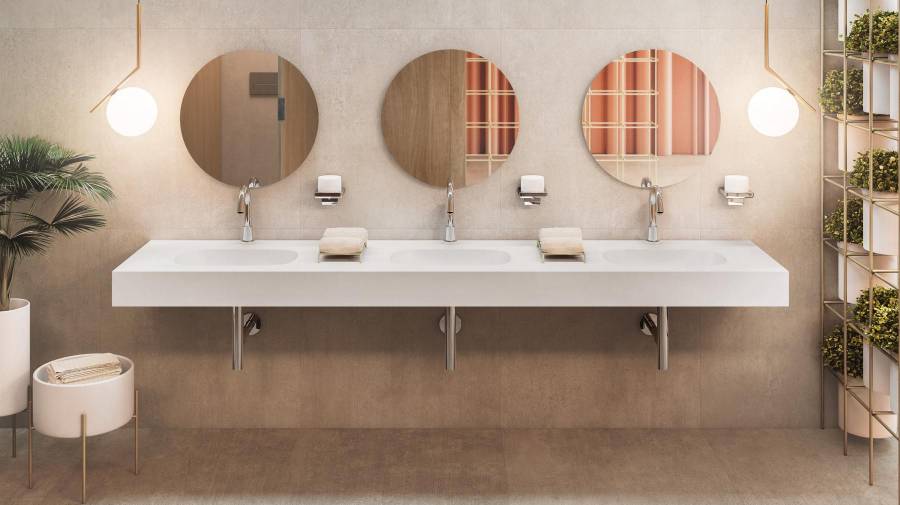 The Modo collection displays its great capacity to customize with its Round, Square and Soft basins: under countertop bowls that make a show of their elegant joint-free silhouettes. On the other hand, the Beyond collection for modern bathrooms reinterprets the Soft model by raising the edges of the sink to make it emerge partially, highlighting the outstanding mineral properties of Roca's Solid Surface in the most sophisticated way.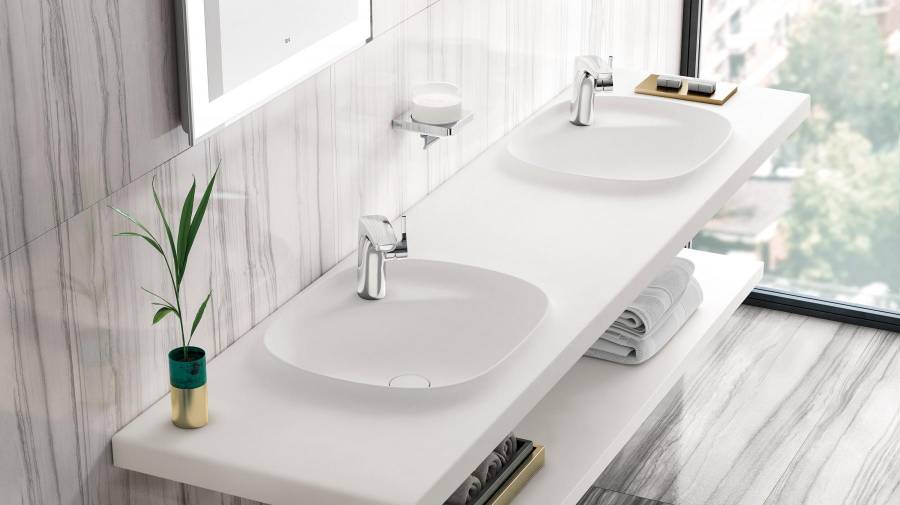 Finally, add the finishing touch to your wash basin by selecting the faucets you prefer. You have modern basin faucets like Insignia, with a minimalistic nature like Naia or with a captivating vintage spirit like Carmen or Loft.
Modern basins… with unique details
Once you have chosen the collection and the configuration that suit you best, you only need to round out your Roca basin with these last details that guarantee not only that the solution meets your style, but that it will be useful.
Although you can install them with a minimum thickness, the wall-hung basins from the Modo and Beyond collections can incorporate a front of up to 125 mm to become a basin with towel rail entirely manufactured in Surfex®. In order to have extra towels on hand or display decorative elements, Roca's Solid Surface may also incorporate an additional shelf so that you can enjoy maximum functionality.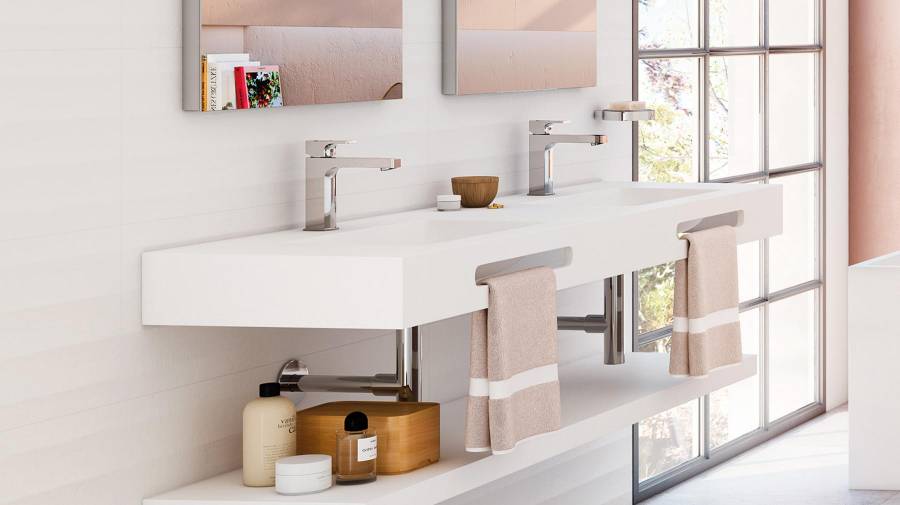 If you like open bathroom furniture, but also versatile storage solutions, you can install a Suma auxiliary unit under your Solid Surface custom-made basin. You can replace the legs by castors to easily move it and have access to your toiletries with greater comfort or innovate by changing the layout and decoration of your home.