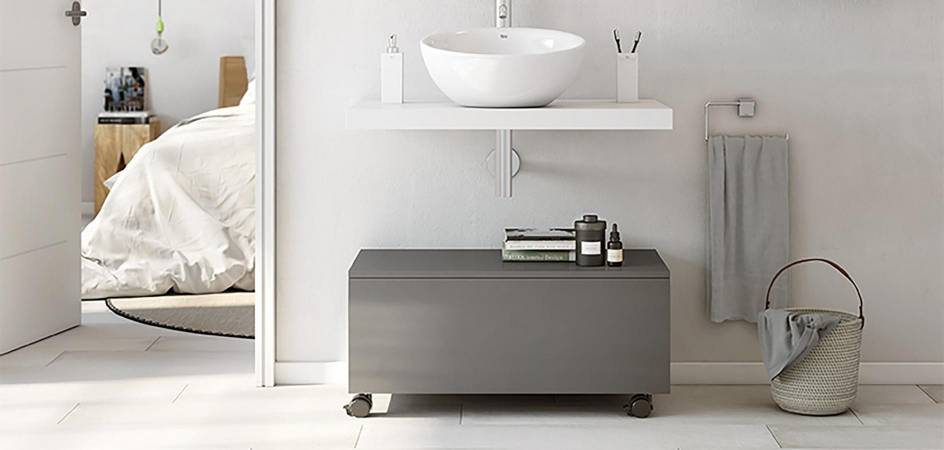 Tips
AUXILIARY BATHROOM UNITS: NEATNESS REIGNS IN YOUR HOME
Auxiliary bathroom units add storage space to help you better arrange your things. Discover which one suits you best.
Making things simpler does not imply getting rid of objects, but knowing how to organize them to make your life easier. Auxiliary bathroom units units are great allies when it comes to domestic storage, as they add extra space to better sort everything you need. As we are experts in the design of bathroom spaces, at Roca you can choose from a great variety of options: column units, shelves, units with castors, cabinet mirrors… Opt for the one that best suits your home or lifestyle and include this foolproof partner in your everyday routine.
AUXILIARY BATHROOM COLUMN UNITS
Auxiliary bathroom column units keep the bulkiest items in order and allow each member of the family to have their own shelf. There are open column units or with doors in a wide range of possibilities and styles.
For those who prefer options with doors, there are various designs and finishes to choose the one that best adapts to our style and personality: vintage, modern, minimalistic, industrial… For example, the Carmen collection will provide the final vintage touch to a classic bathroom with its finishes in satin dark Grey and satin White. Moreover, its upper section with glass door and interior LED lighting will allow you to highlight your objects.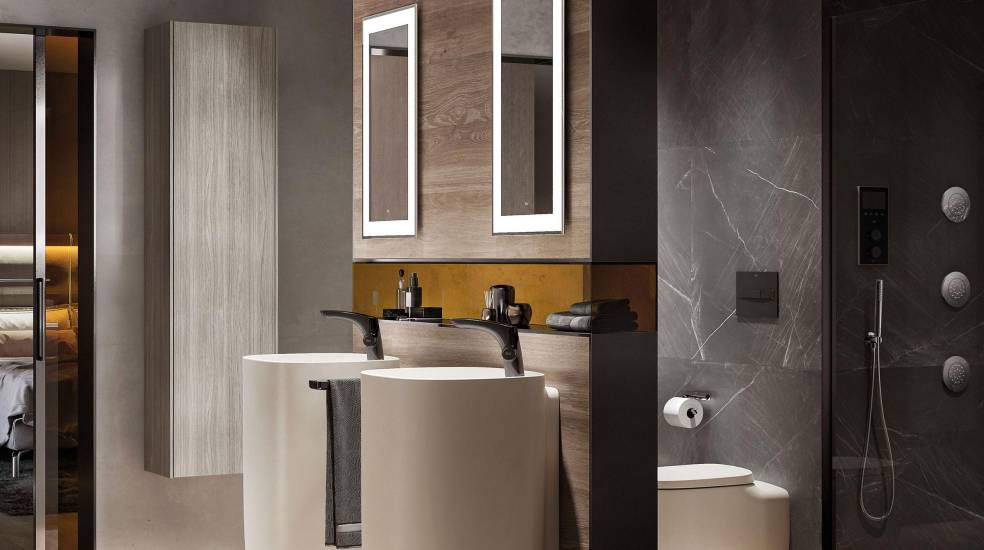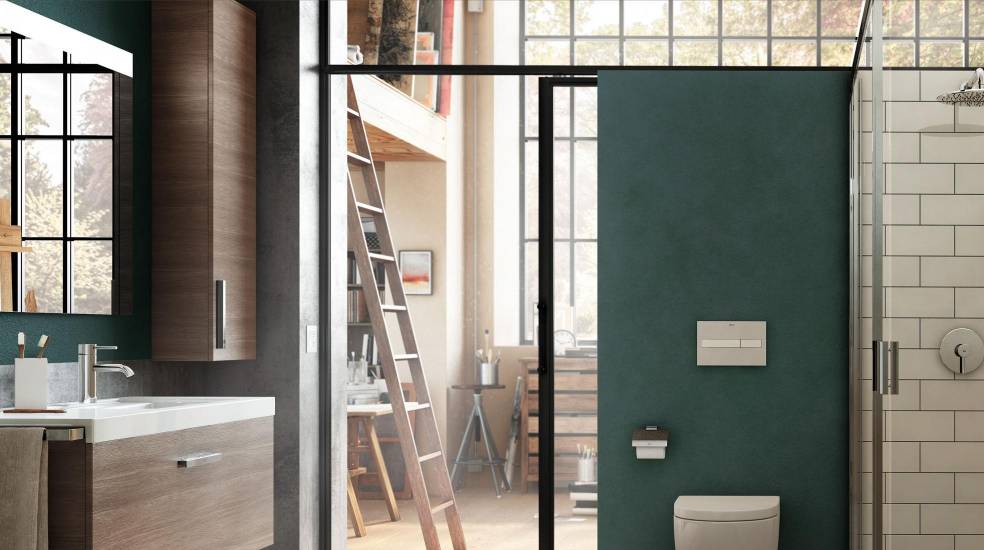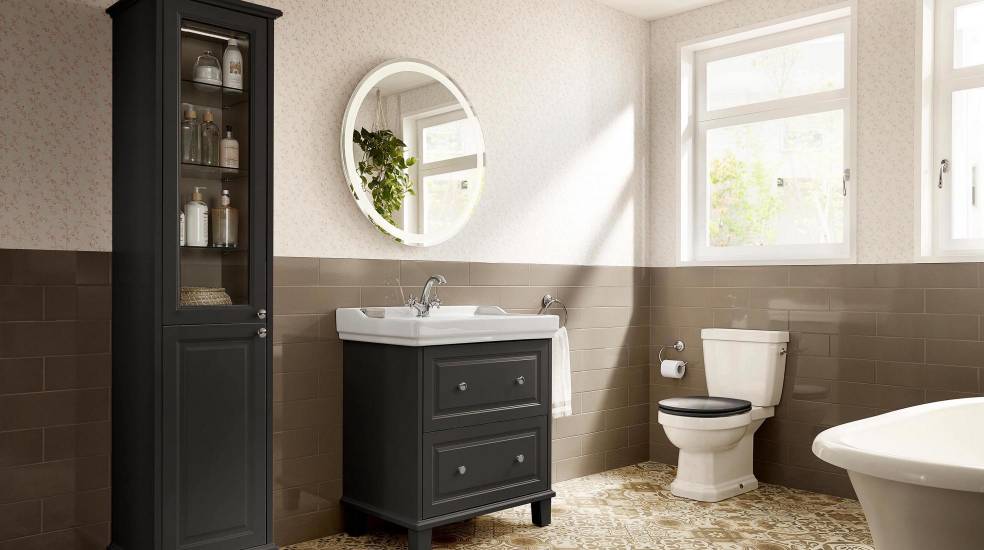 For those who search for a more modern configuration, Beyond has a column unit in Gloss White or City Oak with one single door and push-to-open system, which will enable you to take a step further in the design of your bathroom. If what you need is smart storage capacity, Prisma offers a 1,200 mm high column unit with three adjustable internal shelves.
SHELF UNITS, IDEAL FOR SMALL BATHROOMS
The shelf unit is a very useful complement in small sized bathrooms, as it does not have any doors and takes up little space. If you prefer things to be out of sight, you can opt for a small cabinet.
MIRROR CABINETS, A COMPREHENSIVE SOLUTION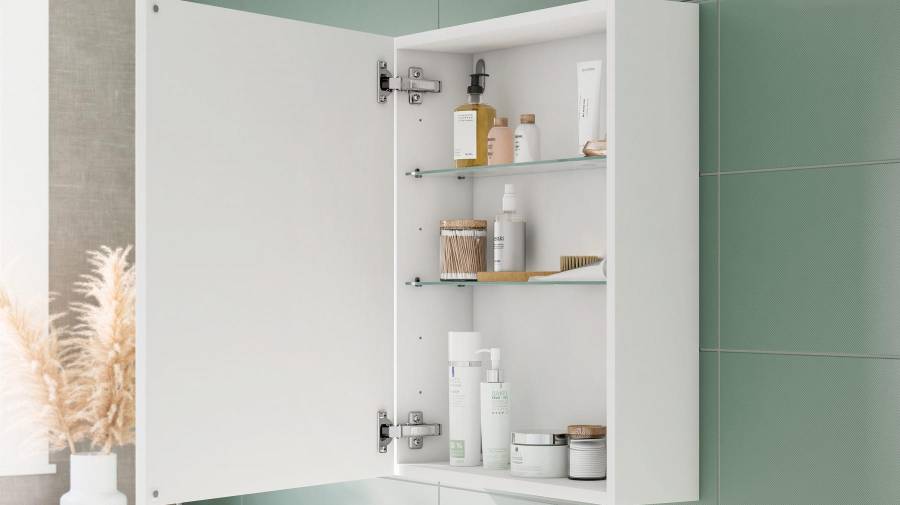 Mirror cabinets are elements that will always add the right touch to a small bathroom or shape guest bathrooms. This reinvented classic will allow you to make the most of the upper part of the basin and keep smaller objects inside. Mini has a mirror cabinet with height-adjustable shelves while Luna has a rectangular version.
As you can see, there is an extensive range of possibilities in auxiliary bathroom units. Your decision will depend on the space you have, on your storage needs and your aesthetic preferences. As an auxiliary unit needs to be mostly a functional complement, choose the one that best adapts to you.