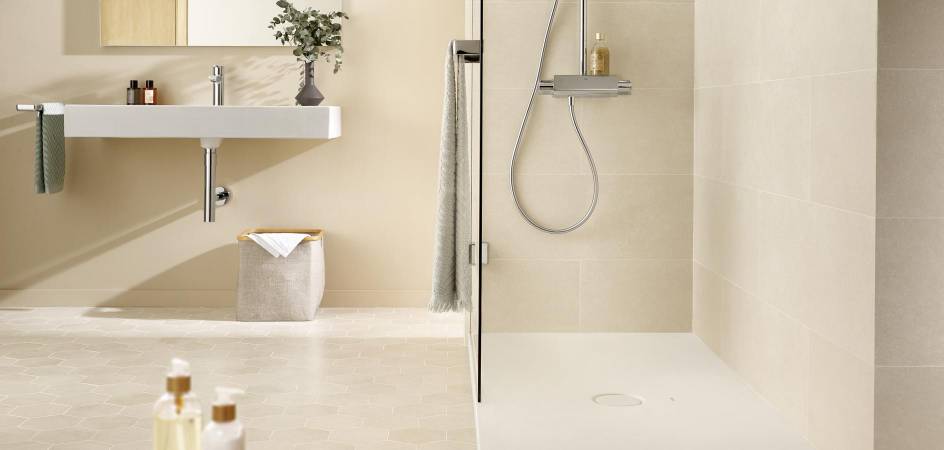 Inspiration
3 STYLES FOR SMALL BATHROOMS WITH SHOWER
Who said you have to give up comfort in your small bathroom? Here are three combinations to fill your shower with style and wellbeing.
When creativity and innovation join forces, compact spaces reinvent themselves. Today it is possible to lend personality to small bathrooms with shower by means of new materials, modern features or updated textures, in designs that greatly increase the possibilities of the smallest bathroom. As you have never been fond of limitations, today we bring three combinations that fill the shower with vitality and style, regardless of its size.
Antislip vitreous china shower tray and thermostatic shower column
The lack of space is not a reason to stop looking for the maximum performance in small bathrooms. Take a step beyond conventional vitreous china and opt for a shower tray that offers the greatest benefits.
If you add a thermostatic shower column to the antislip shower tray, your small bathroom will offer more comfort as the water will heat up in seconds, without wasting a drop and while you shower, the temperature will remain stable, even if you open other taps around the house. Choose from the different dimensions of the Victoria thermostatic column or opt for the Even model and its practical shelf installed on the single-lever faucet. You will enjoy the rain effect during your shower with both models.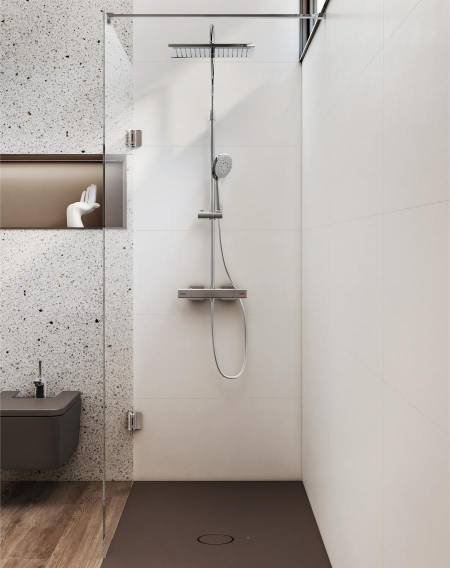 Whatever antislip resin shower tray you choose, combine it with a thermostatic shower column that adds comfort to your daily routines. With it, water reaches the ideal temperature in just a few seconds, without wasting a single drop. Moreover, the Safe Touch® system prevents the faucet from overheating and with Security 38º the temperature of 38 degrees cannot be exceeded, preventing burns and allowing users to save more energy. We propose the Deck model with a mixer that includes a small shelf, very practical to place your toiletries. Whether you prefer a Round or Square shower-head in your thermostatic column, you will greatly enjoy its rain effect in your daily shower.