Roca shapes smarter restrooms through IoT
22/03/2021
Connectivity reaches the bathroom space thanks to the new RocaProtect platform: a solution for public restrooms that integrates Roca's more advanced connected devices within a cloud-based monitoring service to improve facility management.
This innovative service based on the Internet of Things (IoT) connects a wide range of products such as faucets, urinals, toilets, flushing mechanisms or dispensers through a centralized system. Roca's service makes management and maintenance simple and efficient through a mobile app or desktop dashboard from which products can be set up, consumptions monitored, and alerts handled.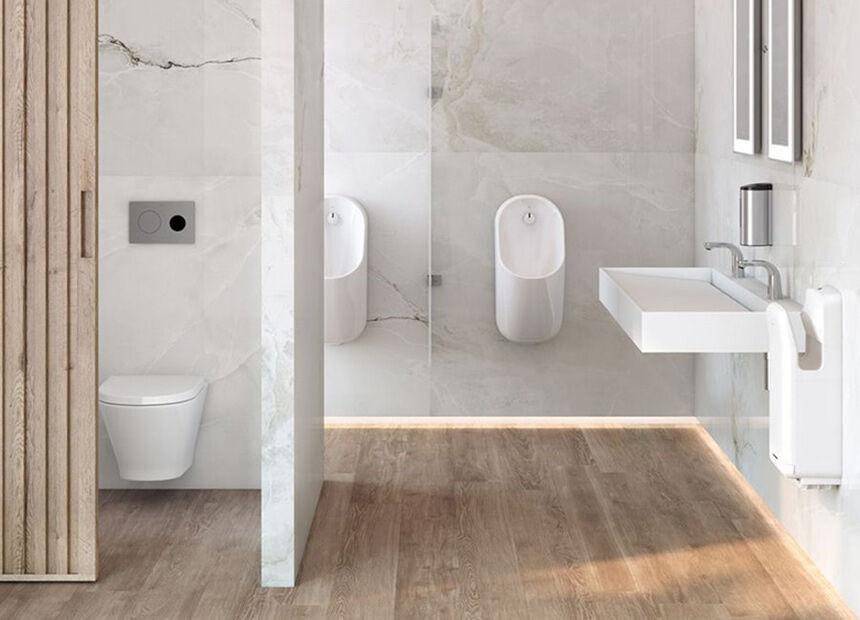 A full semipublic restroom with Proton urinals, PL10-E push plates, L20-E faucets, and Public Touchless dispensers and hand dryer.
RocaProtect collects and treats data in order to offer facility managers comprehensive details on their assets' behavior, triggering preventive maintenance when needed in case of possible leaks, drain obstructions or lack of consumables. The system also delivers real-time reports on water consumption and a full overview of the functioning of the facilities. In addition, the connected products allow remote setups of their main parameters, such as the detection tolerance of the presence sensors or the water flow rates of valves.
Besides, Roca connected products offer greater hygienic features as they are equipped with Touchless technology that prevents hand contact and minimizes the transmission of viruses and bacteria.
RocaProtect is already deployed in the most innovative public bathrooms like the "One Hundred Restrooms" facilities in shopping malls of Madrid and Stockholm. With the great knowledge and experience gained in such demanding high traffic locations, Roca will be bringing soon the benefits of connectivity to homeowners by expanding this line of solutions to private bathrooms through its new service: RocaConnect.