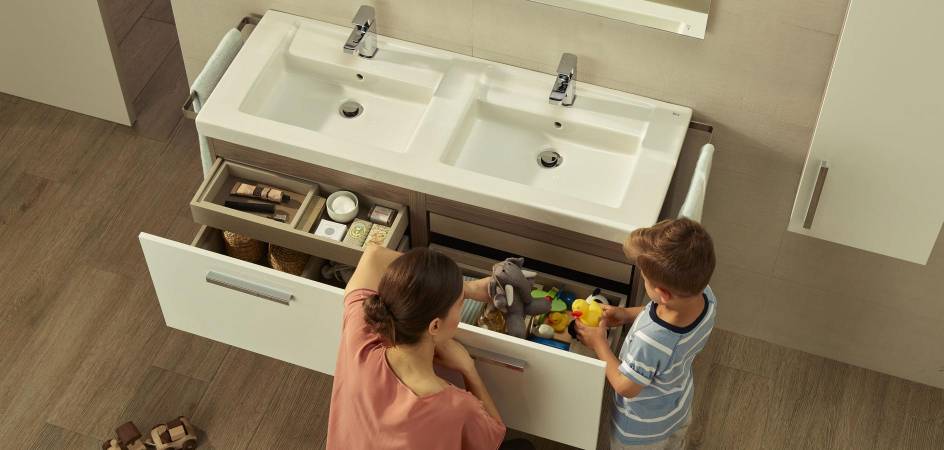 Tips
A large family? Discover some high-capacity bathroom furniture units
Everyone deserves a reserved space in the bathroom.
If the family grows, it is time to redouble our efforts so that everyone finds their place and, with it, enough space for their things.In a world where cities are growing but the size of homes is shrinking, any ideas to make the most of every centimetre become a priority. As toiletries must have their place, we present two high-capacity furniture units where you can store everything you imagine and much more…
Prisma, a versatile bathroom unit to store what you love the most
Looks can be deceiving and with the Prisma collection the storage capacity goes far beyond what you see with the naked eye. The furniture collection offers a functional solutions with great storage capacity up to 2 drawers and a length of 800 mm.
The versatility of Prisma is accentuated by the concealed drawer included in all its versions, so that you can store smaller objects in a safe place. A compartment with no cut-outs thanks to the space saving siphon, which provides a usable area in all drawers, even in the one closer to the basin. Moreover, as the drawers can be fully extracted, you can have everything at your fingertips and organise the content inside by moving the dividers according to your preferences.
In Lacquered Gloss White, Ash or the combination of the White front and Ash on the side, the high-capacity Prisma furniture units provide an additional surface to place the toiletries you use more often, if you choose the option of the asymmetrical basin with integrated shelf.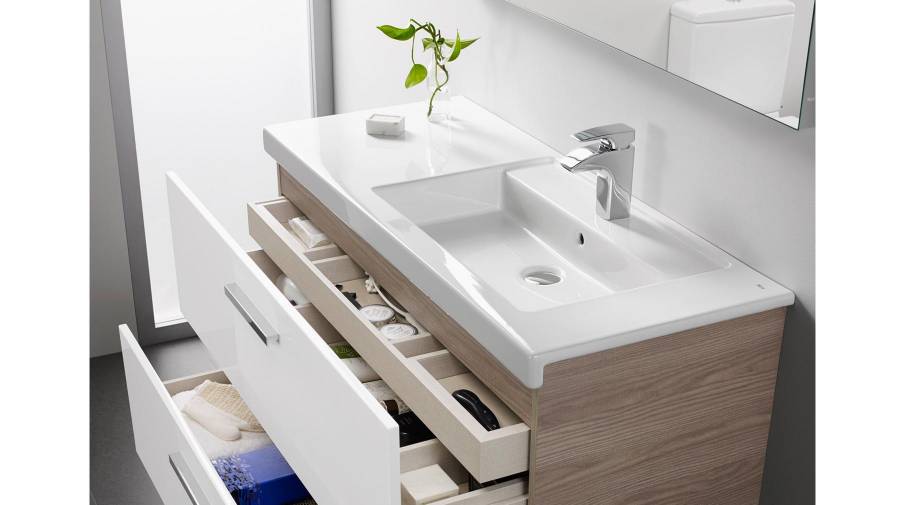 Stratum, Elegant design with the greatest storage capacity
If you need an extraordinary performance, then the smart Stratum furniture unit is your partner. Its storage capacity will seem endless due to its larger than usual dimensions: no other bathroom furniture features a depth of 500 mm combined with an exceptional length of up to 1300 mm, so that absolutely everything finds its right place.
In 1 or 2 drawer configurations, Stratum goes further and brings you up to two additional concealed drawers where you can store medium-sized objects. As these internal compartments are smaller and do not take the entire length of the furniture unit, they will allow you to store objects in the main drawers that take up the entire height of the unit, playing with proportions to safeguard essentials with different heights.